the drama of austerity
The Guardian last week on the rising demand for garden allotments in the UK:
The trust's director general, Fiona Reynolds, said the scheme tapped into a mood in which, as a result of the recession, people's priorities were changing from materialism towards "real" things such as spending time with family, and homegrown food.

Reynolds said: "There's something in the air. More and more people want to grow their own fruit and vegetables. This isn't just about saving money – it's really satisfying to sow seeds and harvest the fruit and veg of your labour. By creating new growing spaces the National Trust can help people to start growing for the first time."
Not long ago in the New York Times, on Japan and its falling consumer demand:
Younger people are feeling the brunt of that shift. Some 48 percent of workers age 24 or younger are temps. These workers, who came of age during a tough job market, tend to shun conspicuous consumption.

They tend to be uninterested in cars; a survey last year by the business daily Nikkei found that only 25 percent of Japanese men in their 20s wanted a car, down from 48 percent in 2000, contributing to the slump in sales.

Young Japanese women even seem to be losing their once- insatiable thirst for foreign fashion. Louis Vuitton, for example, reported a 10 percent drop in its sales in Japan in 2008.

"I'm not interested in big spending," says Risa Masaki, 20, a college student in Tokyo and a neighbor of the Takigasakis. "I just want a humble life."
The papers love this sort of story, which fits all sorts of long-established storylines. Among many other reasons: anxious self-imposed austerity is a more comforting emplotment of demand destruction than other contenders. Not having much choice in the matter,  a large fraction of humanity already eats the food that they grow themselves everyday without it being really newsworthy, and people not buying fancy clothes and cars happens all the time in a not quite narrativizable way. *
But still there's something to this. Just something that's not all that useful in its present form. I do happen to think that there probably is a hard-wired way that humans react to bad economic news. Whether the "wiring" actually happens on a neuro-psychological level or on the level of cultural precedent and morés, it doesn't really matter. But likely there's something in us that wants to eat a bit less when it looks like the eating might not be so great once this years harvest returns are processed, or because the droughts dried up all the crops – something that carries through to mute the reptile mind when we read that Citigroup is about to be nationalized or the like.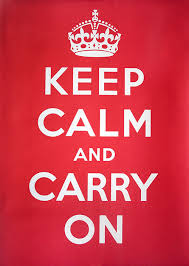 But it's not all that useful an impulse, when repeatedly captured and characterized according to the plotlines on display above. What it would be useful to do, if we were to invest ourselves in small little counter-ideological projects, would be to attempt to turn the representation of these stories away from the endorsement of some sort of self-hating, self-lacerating fantasy of austere living (we should eat cabbage stew because we've been bad consumers!) toward a useful reevaluation of cultural priorities that might lead to a more useful long term result than the sort of thing that happens in individual households, at the grocery store, and in the garden plot. If the citizenry feels nauseously hung-over from the mode and speed and pitch of life during the bubble and its aftermath, it would be better encouraged to contemplate better, wider answers to such a malaise than neo-christian martyrdom by-storebrand purchases.
Zeitgeisty mass-reactions are real, harnessable. They are generally harnessed in service of the worst or the useless. This happens not simply because there are nefarious, implicit conspiracies to drive them in this direction. Sometimes there are, sometimes there aren't, generally it's way more complicated than that. I think this issue is one that people on our send tend to over-simplify and under-read. But there are opportunities for engagement and intervention and tide-turning, we we to think about what we're doing and maybe work from a common starting place and toward a common if open end.
* Another little find, not yet processed, in re aggregate fiction, by the way.
Written by adswithoutproducts
February 23, 2009 at 11:32 pm