Archive for the 'dfw' Category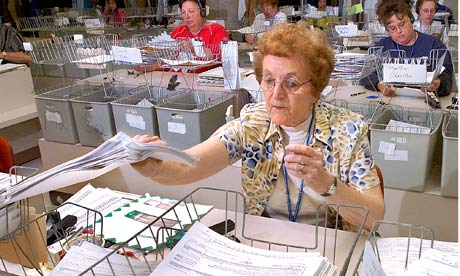 Here's a review of David Foster Wallace's The Pale King by, well, you can figure it out… Lots about bureaucracy in there, no? Really like the image (above) they put with it…
I don't really understand the point of this piece at The New Statesman about DFW. Basically, Aime Williams a) doesn't seem to have read much Wallace, and hasn't yet finished The Pale King but b) offers the incredibly insightful point that he has some serious fans who may have trouble evaluating his work while c) calling him silly for having some strange orthographical habits, d) didn't really like Oblivion because other people did (do you see any other explanation?) and e) seemed to think that the title of one of his essay collections was a sign of some sort of childishness.
Overall, the argument of the piece seems to be I haven't liked DFW but a few of the quotes from the new book that I've seen in reviews look interesting. Still, his fans are irrational and make me want not to like him… Not quite the stuff of riveting literary journalism, no…
Huh. To my mind better practice to a) read the books, at least more than one of them b) decide why you do or don't like them and then, and only then, c) write up something about why. Guess I'm just old school like that…
From a footnote in John Jeremiah Sullivan's GQ review of David Foster Wallace's forthcomign The Pale King,
Early in 2008, GQ asked him to write about Obama's speeches or, more largely, about American political rhetoric. It was still a somewhat gassy idea as presented to him, but Wallace saw the possibilities, so we started making inquiries to the Obama campaign, and even made reservations for him to be in Denver during the convention. Our thought was to get him as close to the head speechwriters (and so as close to Obama) as possible. But Wallace said, very politely, that this wasn't what interested him. He wanted to be with a worker bee on the speechwriting team—to find out how the language was used by, as he put it, "the ninth guy on the bench." It also seemed like maybe a temperament thing, that he would be more comfortable reporting away from the glare.
More, I'm sure, to come on The Pale King. Going to walk across the street now to Waterstones and check if they have any in stock yet….